Blackthorn has the ability to create Solid Plastic or Steel machined lettering inserts for all of your molds that require permanent cast in identification.
Custom Lettering Plate Installation Instructions
Call for a Quote!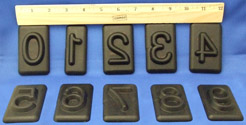 Individual Magnetic Numbering Plates
Cast-In or Stamped-In
Highly Customizable!
We can machine:
Company Name and/or Logo
Warnings and Phrases
Inlet/Outlet
Part Numbers
Capacities
Descriptions
Line Art
Images
Production Dates
Etc…The Sky's the Limit!

Cornell University Combined Heat & Power Plant Logo

NPCA Certified Plant Magnetic Logo Plate

Dump No Waste Custom Lettering Plates

Meets ASTM Bolt-On Plate

R.O.W. (Right Of Way)
DANGER High Voltage Magnetic Plate

Protect US Logo Plate

2008 2009 Number Plates

Inlet/Outlet Bolt-On Lettering Plate

DUCT Custom Lettering Plate

500 GAL 1250 GAL Lettering Plates

Custom T-350 P-350 Plates

Custom Lettering Plate

Stand Alone Individual Letters & Numbers

Custom Individual Letters
Corporate Logo Examples

By-Crete Company Logo Impression

S & M Precast Logo Plate

Garden State Precast Logo Plate

Nance Precast Logo Plate

Cretex West Logo Plate

MACK IND NPCA Certified Plant Logo Plate

Scituate Precast Logo Plate

Jarrett Concrete Products "Top Tight Tank" Logo Plate
American Legion Custom Lettering Plate


Plate Size:  18″ H x 18″ W
Individual Magnetic Numbering Plates
Cornell University Combined Heat & Power Plant Logo

Custom Lettering

Cornell University
Combined Heat & Power Plant
Logo PlatePlate Size: 28″ HI x 90″ WAvailable in Magnetic or Bolt-On Attachment
Cornell University Combined Heat & Power Plant Logo
Custom Lettering

Cornell University
Combined Heat & Power Plant
Logo PlatePlate Size: 28″ HI x 90″ W — Available in Magnetic or Bolt-On Attachment
NPCA Certified Plant Magnetic Logo Plate
Custom Lettering

NPCA Certified Plant Logo PlateSymbol Height/Depth: 3 3/4″ / 3/8″
Row 1 Letter Height/Depth: 1 1/2″ / 3/8″
Row 2 Letter Height/Depth: 1″ / 3/8″
Plate Size: 8 1/2″ HI x 12″ WAvailable in Magnetic or Bolt-On Attachment

Flexible, Magnetic NPCA Logo plate placed on Id'd Jacket
Meets ASTM Bolt-On Plate
Custom Lettering

Meets ASTM Standard Custom Plate

Letter Height/Depth: 1″ / 3/8″
Plate Size: 8 High x 11″ Wide

Available in Magnetic or Bolt-On Attachment

 

***Actual casting as appears on S.T. Griswold structure
Dump No Waste Custom Lettering Plates
Custom Lettering

"Dump No Waste, Drains to Waterway"
Logo PlatesAvailable in Magnetic or Bolt-On Attachment

 
Custom Lettering R.O.W. (Right of Way) Custom Lettering Plate Letters: 2″ High x 3/8″ Deep
Plate:11 1/2″ High x 3″ Wide Available in Magnetic or Bolt-On Attachment