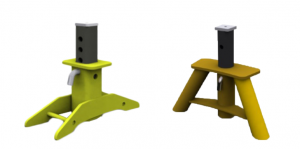 Available for FLAT WALL & CYLINDRICAL (I.D.) Structures
Blackthorn's Adjustable Pallet Supports are designed to replace wood blocks, bricks, PVC pipe, or whatever you use to raise pallets to pour short structures.
Our Adjustable Pallet Supports are a more STABLE, EFFICIENT, and SAFER option.
Height Positioning Supports (HPS) are interchangeable between bases – both Flatwall and Cylindrical/Round wall bases use the same HPS system.
FLATWALL & CYLINDRICAL BASE & HEIGHT POSITIONING SUPPORT LIST
RECOMMENDED NUMBER OF SUPPORTS PER STRUCTURE