Foam Hole-Formers are a low cost hole-forming option that are ideal for single use and limited run productions.
Most orders can be produced and shipped on the same or next day – great for time-sensitive projects.
We can make ANY size, shape, and structure. We can also ship full sheets directly to you.
EXAMPLES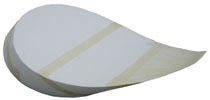 18″ Dia. Parallel Foam Hole for 6″ Wall x 60″ I.D. manhole
(Functional for VORTEX manholes)

64″ Dia. Foam Hole for 9″ Wall x 96″ I.D. manhole
(Custom cut for Split-Barrel Application)

Foam Mandrels – ANY size, structure, and gasket type!
(Above: 2″ PVC and 4″ PVC Septi-Seal Gaskets on "Ready-To-Pour" Foam Mandrels)