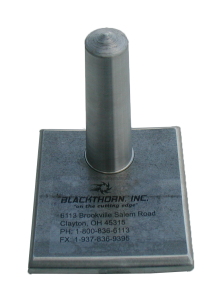 The Cold Joint/Rebar Hole-Former creates the necessary holes for rebar placement for secondary pours.
No more hand-drilling rebar holes!
CUSTOM MADE to your specifications – although, standard sizes are available (most common size is a 7/8″ tapering to 1-1/8″ x 4″ long Steel Pin with a 3.5″ long x 3.5″ wide x 3/8″ thick magnetic base plate).